Ryan Scott of
Vapor Audio

tells us what makes the

Vapor Audio Nimbus

such a unique speaker and why the

Acoustic Elegance TD15H

was an ideal fit.

"We knew the Nimbus concept was an ambitious goal.  Targeted were effortless dynamics, high output capability, extreme low distortion, flat frequency response with little thermal compression, and high enough efficiency to allow use of all but flea-power SET amplifiers. Precious few speakers exist in the market that check off all those boxes,  and with good reason.  Often the problem is that the necessary pieces of the puzzle don't exist.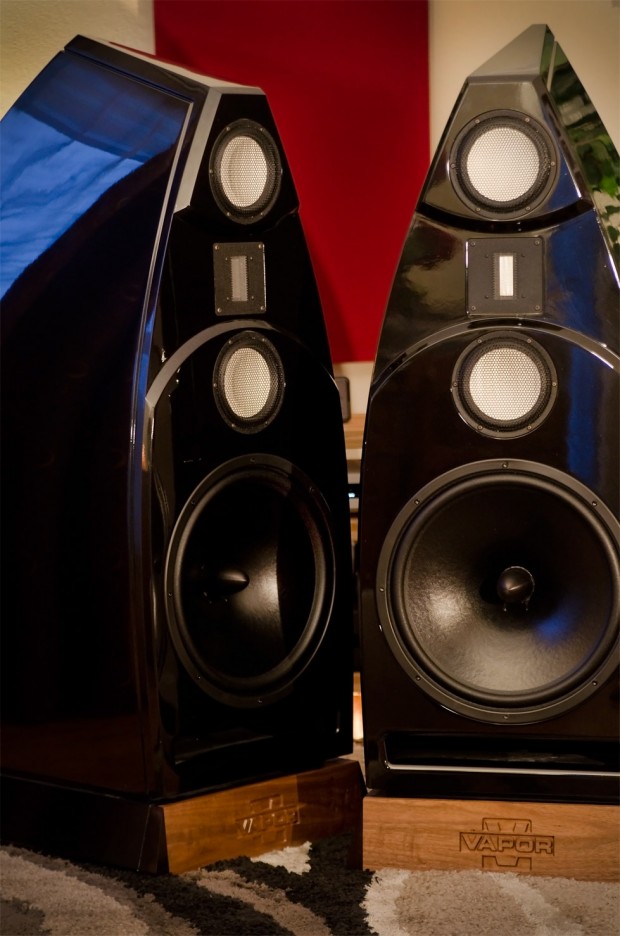 "The tweeter was easy because of our years of experience with the RAAL ribbons we knew it was a perfect fit.  Doubling up the midrange drivers in a MTM configuration also gave us excellent options, the trick there was to time align both midrange drivers with the tweeter.  But when it came to the woofer, options became very few.  To meet our goals we decided a 15" woofer was needed, high efficiency 12" woofers just don't give the extension targeted.  But the vast majority of 15" woofers on the market either have low efficiency due to excessive moving mass and non-compliant suspensions, or sacrifice too much cone weight resulting in a frequency response that become a jagged mess above 2-300hz.  Also most have high inductance, indicative of poor motor design that translates too veiled mid-bass and midrange.  Given the price point targeted for the Nimbus, only one woofer was identified as a possible fit.  If it didn't deliver, it's likely the Nimbus would have never taken final form.  The driver of course was the Acoustic Elegance TD15H, and not only did it deliver, but exceeded our expectations!
"Now that many pair of Nimbus have been shipped to customers, and they've been heard by thousands at audio shows, we've even more impressed with the performance the AE woofer delivers.  Here at Vapor Audio we're thankful for the options Acoustic Elegance gives us as an OEM.  They're pushing the limits of woofer design farther than other manufacturers, and understand the design and manufacture aspects that result in wonderful real World sound.  They simply don't compromise, and it shows in how they perform.
"Right now Vapor Audio is offering $1000 off and another $1000 of free upgrades, including upgrade to the Apollo motor AE TD15H, on an order for a pair of Nimbus Black.  We can be contacted via phone at 636.375.0086, or email ryan@vaporsound.com "
---
For a full review of the Vapor Audio Nimbus White see what Doug Schroeder had to say on dagogo about the Nimbus and the TD15H as well.    http://www.dagogo.com/vapor-audio-nimbus-white-speaker-review
"The Acoustic Elegance strikes my ear as being in comfortable company with any of these speakers' low frequency performance not only in terms of precision, but also in terms of sheer dynamic capacity. The TD15H can move air and pressurize a room with a single 15" driver nearly as well as larger premium subwoofers!"
---
Nimbus Specifications
Loudspeaker Type
3 Way with MTM mid-hi frequency
Frequency Response Range
26 – 39,000hz +/-3db
32 – 27,000 hz +/- 1.5db
Sensitivity
93dB
Nominal Impedance
8ohm
Tweeters 
RAAL 70-20XR Tweeter
Midrange 
Wavecor Paper cone, Symmetric Motor Drive 6″ Woofer (Black)
Accuton Ceramic Cone, C158-8-085 6″ midrange x 2 (White)
Woofers
Acoustic Elegance TD15H
Cabinet Tuning
30Hz Slot Ported
Crossover Details
Time aligned shallow slope networks
crossover points of 450hz and 2500hz
Weight and Dimensions
230 Pounds
54″ Height x 26″ Deep x 18″ Max Width
Recommended Power
10 – 1000 watts via Tube Amp
25 – 1000 watts via Solid State Amp
Contact Vapor Audio
Web:
www.vaporsound.com
Location:
5962 Town and Country Ln
House Springs, MO 63051
Phone:
636.375.0086
Email:
ryan@vaporsound.com