UB151's

 loaded with

Dipole15's

combine with some of the best components in the world in this system looking to approach audio perfection.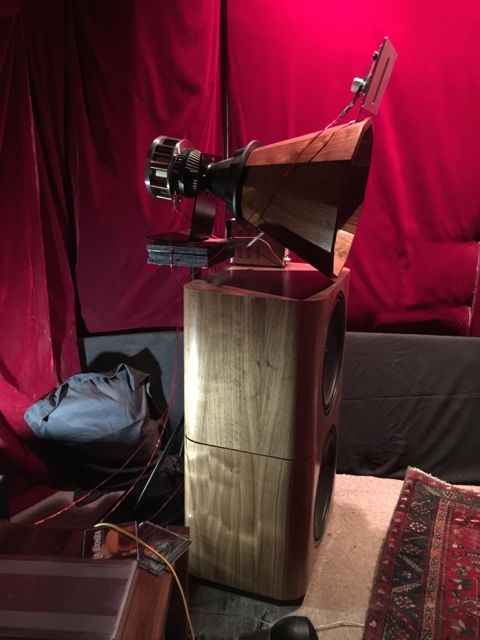 Some months ago the first email was received by a man to be known here as Alain Ciarraighe.  He had assembled quite the system with extremely high end components and was looking for a bass solution that could fit in well with the rest of the components.  Having been impressed by the sound heard from the Lotus Group Granada previously at the California Audio Show in San Francisco, he was interested in looking at using open baffles to achieve the accuracy he desired.  After some reading about Kyron Audio and the Vapor Audio Nimbus, he came to the realization that Acoustic Elegance was supplying woofers for all of these great systems.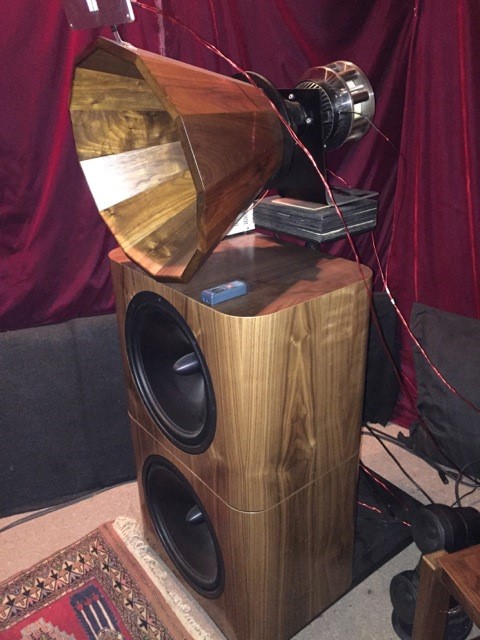 The goal now was to replace two Edgarhorn 80hz bass horns with open baffle bass sections and provide enough extension so the system would not require additional subwoofers.  At the time, the first UB151 U-baffles were being developed.  After some discussion it was determined that a total of 4 of these, two per side, would work very well to provide the low end needs of the system.  The U-baffles help to produce more low end output than a flat open baffle alone can. He determined that a natural black walnut veneer would work well with the current look of the Acoustic Horn Company AH300's.  The four UB151's were built and veneered from a continuous walnut sheet.  When all four cabinets are stacked, the veneer is continually matched from cabinet to cabinet.
This system is a four way active system.  Power is provided by Nuforce REF9seV3.01 and MCH3se amplifiers modified by Bob Smith.  Processing is handled by DEQX HDP-4 and HDP-3 units that were modified by DEQXPERT Larry Owens of Knowledge Resources Corporation.  Once the UB151's were delivered, Alain created rear stands to properly support and aim the AH300 horns.  Mounted to these horns are a pair of B&C DCM50 compression drivers.  These are essentially modern day versions of the 30's vintage field coil-powered RCA 1428. The DCM50's are not standard drivers, using 5" paper diaphragms in front of the magnet structure. These were modified for field coil operation by Wolf Von Langa in Germany.  A Hi-Vi ribbon tweeter functions as a super tweeter to handle the upper most octaves.   While attending the California Audio Show, Larry Owens personally stopped by to do the initial calibration of the system.  After a few further modifications were made to the electronics in the system, Larry remotely completed the system calibration via Skype. In the subsequent email exchanges, Alain has had many good things to say about the Dipole15's and UB151's, some of which you can see below.  Acoustic Elegance is very happy to be able to assist in the development of this great system.
---
"…they
blend perfectly with the horns and they're flat to 22 Hz (3dB down at 20 Hz) in my room. "
"The quality of the bass is amazing actually. I bought a new CD, Basswerk ( A Bass Tribute To Kraftwerk ) to give the new system a workout and honestly I have never heard anything like the bass I'm getting now. Loud, deep, punchy, you can feel the bass in your feet, in your whole body. And it's not distorted, it's very quick, clean."
"Acoustic bass is also very very good, listened to Super Bass II (Ray Brown, Christian McBride and John Clayton) last night and it sounded great. Crazy resolution of macro and micro detail."
"Have listened to The Fairfield Four Standing In The Safety Zone maybe 3 million times ? but it never sounded better than it does now. Super realistic. Crazy imaging."
"The U-frames + DiPole 15s fit in perfectly with the HF drivers ! Great bass ! It's not like the sound I get watching movies with my surround system's three little subwoofers, bass from the dipoles is totally different, no room shaking ELF effects, just realistic. Like real bass. Like live music. Just what I wanted ! Perfect !
The new bass section sounds far better than my old bass horns + horn sub woofers. Waaaaaaaay better !
And the electronics ? The modified DEQX processors and modified NuForce amps work perfectly. No background noise. At all. Have to put my ears right up to the driver to hear any noise at all, even then it's barely audible."
System Details
Loudspeaker Type:
4 Way Active
Bass/mid-bass:
Dipole 15 (4 Ohm) in UB-151 lower U-frame ( 20 Hz – 250 Hz )
Dipole 15 ( 4 Ohm) in UB-151 upper U-frame ( 20 Hz – 500 Hz )
Mid frequency:
Field-coil modified B&C DCM50 on Acoustic Horn Company 300 Hz solid-walnut conical horns ( 500 Hz – 5 kHz )
Hi frequency:
HiVi RT-2 PRO Planar Isodynamic Tweeter ( 5 kHz – 20 kHz )
Amplification:
(2) Robert Smith-modified NuForce REF9seV3.01 Class D mono amps
Robert Smith-modified NuForce MCH3se ( w/ REF9seV3.01 Class D mono amp boards ) 7 channel amp
Crossover/Processing:
Larry Owens-modified DEQX HDP 3 (Digital Equalizer Crossover) on the four bass amp channels
Larry Owens-modified DEQX HDP 4 on the two mono midrange amps and the two tweeter amp channels
Sources
iMac computer
PS Audio Perfect Wave CD Transport
SOTA Cosmos tt + SME V tonearm + SoundSmith strain gauge cartridge + SoundSmith phono amp
MX 5050 BII2 r-t-r
Wires
Blue Jeans Cable XLR interconnects
Anti-Cables connected w/ banana plugs & bare wire