This DIY design by Ronald Wanders utilizes his own DIY ribbon drivers mated to
Dipole12's

in an amazing 2way system.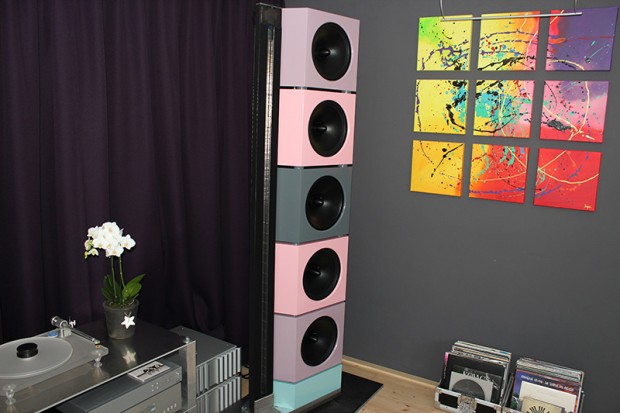 "The ribbon project is finished. The 'lads' are assembled in the living room. I started March '15. It took me 7 months to design, Autocad, calculate, think, cut, weld, CNC and assemble them. Lots of masters-of-industry helped me during this project. Theo Kraai (Lentus Audio) made the basic design of the wood work and the baffle. His son Tom and a co-worker Ben did the CNC work. Per Lundahl (Lundahl Transformers) designed the impedance correcting transformers for the 2 meter ribbon. Cees Ruitenberg (Metrum Acoustics) gave just the right reactions (after listening) which gave me the energy to continue. John Janowitz (Acoustic Elegance, LLC) made the 10 Dipole12 woofers with his bare hands. My guys at WH2A ICT Professionals helped me with moving the heavy parts and listened for hours. 140 very strong neodyne magnets that simply will NOT cooperate in any way. Immense magnetic fields that attract the most unexpected pieces of metal, including the spoon in your coffee mug.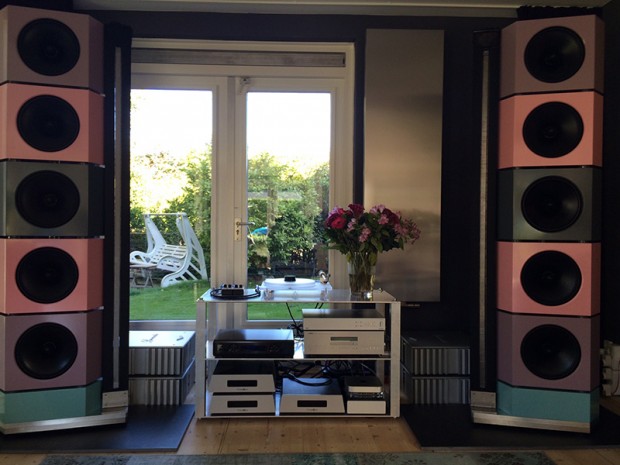 "Each single woofer sub assembly weighs a little over 40 lbs. The ribbon assembly weighs 120 lbs. The steel/aluminum pedestal weighs 200 lbs. Ludicrous numbers that result in the absolute best speaker system I have ever heard. The measurements show only straight lines for frequency and phase. THD of less then 0.2%…! Absolute precision and speed produce an extremely wide stage that opens up as soon as my four Burmester 956 Mk2 amps start pumping electrons into these monsters. The speed of the 8um ribbon is from out of this world. No other mid/high driver (except maybe some other ribbons) will sound better. Combined with the best woofers mankind ever produced, this system will give you a listening experience that you will never ever forget. AND WITHOUT THE USE OF FANCY DSP's…!!! I used simple 12dB/octave filters (LR2) at 538Hz. Only high class capacitors and coils of course. The low pass filter has a Mundorf Zero Ohm with just 0.09 ohms, which combined with the 2500 plus damping of the powerful Burmesters results in absolute control over the lows.
"Lots of people ask me: Are you going commercial with these. Well… No I will not go commercial. Cost price is round and about 30.000 euro's, not including labor. If you really want one, go and check out SoulSonic Speakers. Miro Krajnc from Slovenia uses the exact same woofers, about the same in-house designed ribbon and might even have a far better designed filter. I'd rather be "just the computer guy"…
Specifications
Loudspeaker Type:
2 way
Frequency Response Range:
20Hz-20KHz
Bass/mid-bass:
10x Dipole12
High frequency:
Custom DIY ribbon
Amplification:
Burmester 956 Mk2
Crossover/Processing:
12dB/octave filters (LR2) at 538Hz