PSE-144

represents a no-compromise approach to audio reproduction.

Described recently in terms of its styling and performance as akin to a Ferrari sports car, PSE-144's racy performance is anticipated. It more than delivers with lifelike dynamics, an incredible soundstage and startling detail. After recovering from the shock of experiencing what this speaker can do, a new realization emerges. It is perhaps the greatest surprise that a speaker capable of near unlimited output is also a step forward in high fidelity.
The simplicity of a point source
The ideal loudspeaker is a point source, providing an acoustically simple reproduction. It is free from the myriad of distracting cues that makes us aware we are listening to a loudspeaker. The acoustic image is precise and cohesive. True point source loudspeakers are difficult to realize and typically create larger problems than they solve. PSE-144 combines a horn loaded compression driver with four dedicated midrange drivers coupled via an acoustic chamber. All outputs combine near the throat where a point source emerges.
Constant directivity
The ideal loudspeaker directs sound forward with a uniform and controlled off axis response. Achieving constant directivity is a critical ingredient of real world performance in a listening room. The attenuation of lateral reflections produces exceptional clarity and enhances the perception of detail. The result is that troubled rooms are tamed and good rooms sound exceptional. Other speakers touted as constant directivity designs often only control dispersion horizontally in the treble region. PSE-144 is unique in performance here. That it controls dispersion in both horizontal and vertical planes is a considerable achievement. That this is achieved it down to 250 Hz sets it apart from all others.
Woofers –the obvious choice
A no compromise speaker requires the ultimate woofer. One that offers high sensitivity along with extreme output in an enclosure of modest size. Acoustic Elegance TD18H+ stands head and shoulders above the alternatives. The requirement of extreme output suggested an 18" driver should be used but many were limited in their bandwidth. The other drivers considered were lacking in bottom end capability due to limited excursion and also in their upper end due to high inductance.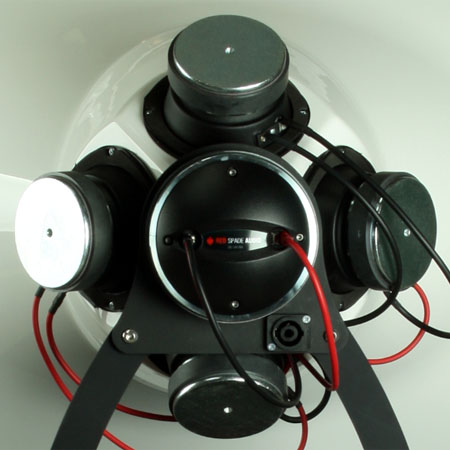 Normally a horn positioned at ear level with extension to 200 Hz would experience a dip on the in-room response caused by the floor reflection. With PSE-144, this is eliminated by extending the bass to horn crossover to 350 Hz and having the bass driver close to the floor. In order to do this and also match up to the dynamics of PSE-144, the woofer needs finesse, accuracy and a linear response into the low midrange region. With this in mind, TD18H+ is the obvious choice.
DIY options
Red Spade Audio  also works with DIY enthusiasts to create their own bass solution. Many different approaches are possible and Acoustic Elegance has a great range of drivers ideally suited to the ultimate bass solution. Some of the options include:
Sealed box (TD18H+ recommended)
Infinite baffle where PSE-144 is soffit mounted
Front loaded midbass horns
Contact Red Spade Audio to discuss how you can experience the PSE-144.
---
PSE-144 Specifications
Loudspeaker Type
3 Way with Active DSP and passive crossover options
Frequency Response Range
30Hz to 20KHz
Polar Response Pattern
80 degrees (horizontal) x 60 degrees (vertical) beamwith
Tweeters 
1-inch compression driver
Midrange 
4 x 4-inch midrange drivers
Woofers
Acoustic Elegance TD18H+
Crossover options
Passive crossover or fully active with DSP
Bass box options
DIY flat pack or finished in satin/gloss black or veneer
Bass box
Sealed box monopole
Contact Red Spade Audio
Location:
Melboune
Victoria
Australia
Phone:
0405 285 661