OZ* is an unique, custom made, hedonistic loudspeaker system consisting of a pair of open active speakers and DSP.
OZ brings unforgettable listening experience through a combination of well conceived design, several important features, top quality parts and precise on-the-spot adjustment. It is also a system that gives you, the end user, ability and freedom to enjoy it in a way that is optimal just for you.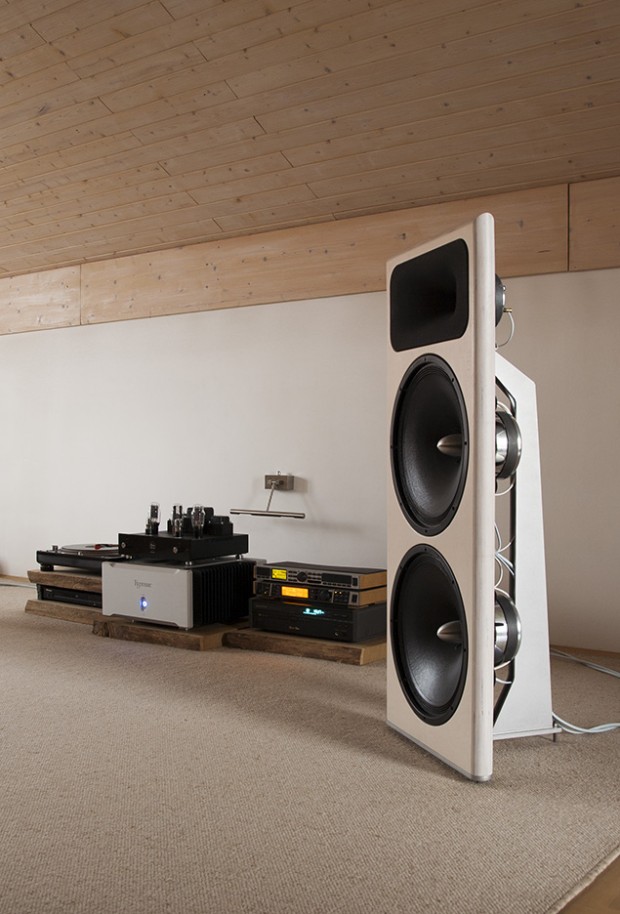 Recently there are indeed more open loudspeakers around than in previous three or four decades, but even within this rare loudspeaker incarnation, there are many different concepts. A concept of OZ gives the best open loudspeaker performance, lasting listening pleasure, with occasional intense and repeatable goosebumps moments. It is capable of excite you and comfort you, both in a good way.
OZ is not picky regarding your musical taste, it is able to satisfy listeners regardless of preference to musical source, genre or age when music was composed and produced. It tends to extract a potential of every recording. OZ is naturally expressive in such a way that it is easy to feel liveliness in almost every performance.
If you have a loudspeaker system of this concept and size, then full frequency response, incredible dynamics, punch, playing loud and clean – it is all given and OZ have all of that – simply a matter of having a large enough hammer. What I consider a success with OZ is plenty of that elusive quality of rightness, fine textures of inner details which suddenly and effortlessly arise and decay here and there and seem like real. A sense that you are invited into the sound. Still feeling like exploring it even at realistic levels instead of having to defend from it.
Combination of wide and precisely adjustable frequency range, high sensitivity, controlled directivity, negligible compression and low distortion enables OZ to perform extremely well even in difficult living spaces. This is a concept that introduces several new solutions. Magic will happen at volumes between whisper quiet evening session and realistic acoustic concert levels. Some of the most important parts that are used in OZ are on the level of quality which is built into loudspeakers costing more than 100.000 EUR/pair.
OZ sounds very impressive even with moderately priced equipment, but its transparency will let you hear every further investment into better sound sources and amplification.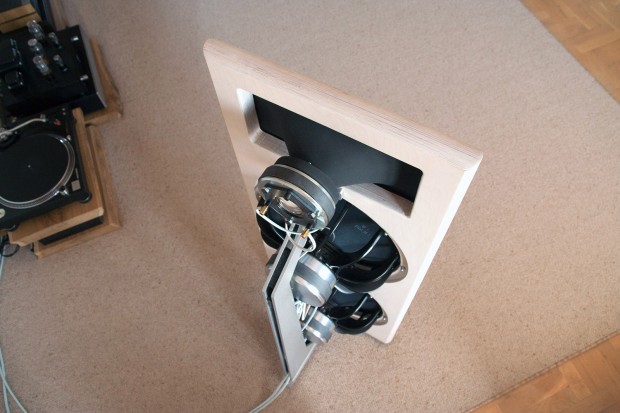 Imagine what you get with a system that uses main parts good enough for 100.000 EUR home speakers and real top quality studio monitors, a system that is adjustable to your room and your needs as much as it is possible by today's technology, with 24/96 resolution.
OZ will be appreciated from listeners who like diversity instead of any certain "type of sound". Colorful music and colorless sound. To experience what we mean is best felt through an audition or having one for yourself.
OZ is a real world speaker, playing in a real room with real world electronics. It is also more than just a loudspeaker itself, but a concept of modern audio system that puts many things into the right place. However, such a concept is quite unusual and people have a lot of questions.
---
OZ Specifications
Loudspeaker Type
2 Way, DSP – controlled active open baffle speaker
Frequency Response Range
25 Hz – 20 kHz optimum response curve
adjustable with precision of 0.1 to 0.5 dB steps
Radiation
dipole through entire spectrum
front side controlled directivity
Tweeters 
1″ exit compression mid/treble
Radian R475PB open back on SEOS15 WG
Woofers 
2 x Acoustic Elegance LO15 
Dimensions (WxDxH):
47 x 34.5 x 113 cm
Weight
44 kg (25 kg / drivers, 19 kg / frame)
Recommended amplification mid/treble
minimum 4W per channel
Recommended amplification bass/mid
minimum 75W per channel
Power Handling
200W bass/mid
35W mid/treble
Contact OZ
Web:
OZ – Ozone Design
Location:
Karlovac
Croatia
Email:
oz@ozonedesign.net