The Kronos, a highly award winning loudspeaker from Kyron Audio, featuring
Acoustic Elegance

Woofers.

The Kronos Dipole Loudspeaker System is a direct descendant from the Kyron Audio flagship Gaia system.  The lineage is unmistakable and, with the same lack of colouration, the sound quality of the two models is almost indistinguishable.  The Kronos system offers the technical brilliance and pure musical reproduction of the Gaia, scaled to fit the requirements of a more modest listening space.  Every element of the Kronos design was carefully considered, to ensure that this speaker system lived up to the self-imposed standard of excellence set by Kyron Audio.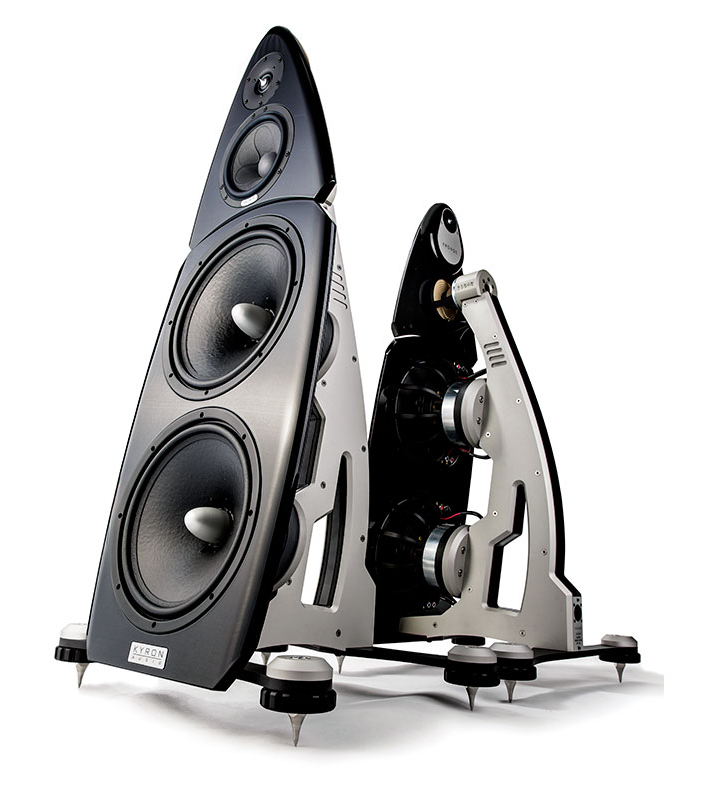 The Kronos system continues Kyron Audio's pursuit for truth; the pursuit for even higher fidelity than was imagined possible.  The designers at Kyron Audio put every element of loudspeaker design under the looking glass, to determine where meaningful gains in performance could be made. Not driven by market pressures or assumed norms, Kyron Audio has developed a loudspeaker system that is bold, distinctive, musical, and truthful.
The Kronos employs customized and hand assembled woofer drivers based on the Acoustic Elegance Dipole Series.  These bass drivers are mounted from the back of the motors to reduce vibration and improve dynamics.  A low distortion, high excursion midrange driver has been utilized, as well as technologically advanced ring radiator tweeters.  The drivers have been painstakingly selected for their lack of any sonic signature.  They convey the full emotion, timbre, transient detail and dynamics of the music being played with conviction and truth.
The Kronos includes DEQX™ powered signal processing capabilities, and this is responsible for the linear-phase crossovers, time alignment, frequency response correction, phase correction, and room correction. Being able to correct the frequency and phase of the output ensures that what is heard is as close as possible to what was recorded.  The signal then travels directly to proprietary dipole correction electronics that allow the woofers to be used without a box.
The sculptural styling of the open baffle speaker system was modeled for both aesthetics and strength and is in itself a representation of what is possible when innovation and performance are given high priority.  With styling cues taken from contemporary architecture, the Kronos is a striking and though provoking artistic piece that speaks strongly even when it is silent.
At Acoustic Elegance, we are honored that Kyron Audio has chosen  to select drivers based on our Dipole Series to provide the low end foundation for such and incredible speaker.  We look forward to a continued partnership in the future to come.
---
Kronos Specifications
Loudspeaker Type
3 Way, DSP – controlled active dipole loudspeaker system
Frequency Response Range
32Hz to 40KHz
Polar Response Pattern
Figure8 (dipole)
Tweeters 
2 x 1-inch ring radiator with patented symmetrical drive motor
Midrange 
1 x 7-inch neodymium dipole mid-woofer
Woofers 
2 x 12-inch long throw, dual voice coil Dipole woofers
(based on Acoustic Elegance Dipole Series)

Preamplifier
Total harmonic distortion <0.0008%
Remote analogue volume control
Digital Inputs
RCA S/PDIF
BNC S/PDIF
XLR AES/EBU
Asynchronous USB Audio
Analogue Inputs
XLR Balanced
RCA Unbalanced
DSP
Linear phase crossovers
10 Band parametric room correction
Contact Kyron Audio
Web:
kyronaudio.com.au
Location:
Bacchus Marsh
Victoria
Australia
Phone:
+61 (0)3 9016 2585
Email:
info@kyronaudio.com.au