Steel parts are out of stock. Changes within the company also do not all me the ability to build these lower profit drivers as I am now building everything primarily on my own. As a result some changes needed to be made to more properly fit current needs. IB15's will once again be available in the summer 2011. I have some currently available to order without the copper. You can see info on these here:
viewtopic.php?f=3&t=2729
For the car audio users I have a very good option as a replacement to the IB15A. This is not only a replacement but an upgrade to the original IB15A. The SBP15 was primarily designed for critical monitoring applications in recording studios where small boxes were required. However, it is really an ideal driver for the car audio IB applications as well. The SPB15 steps up to the next size Lambda motor which is larger in diameter and has a thicker 19mm top plate. This gives slightly more motor strength but more importantly it gives an even more broad Bl curve for more linearity to Bl over excursion. It also models VERY close to the previous IB15A. It actually uses the same cone and surround already so physically it looks the same from the front. Weight is about 25 lbs vs the 18 lbs of the previous IB15A. The small amount of extra motor strength is of benefit for the car applications. The taller gap plate and more broad BL curve actually gives substantially lower distortion.
Here is what we would end up with for parameters:
SBP15-4
Fs: 21.3Hz
Qms: 5.35
Vas: 338L
Cms: .35mm/N
Mms: 152g
Xmax: 18mm
Sd: 825sqcm
Qes: .45
Re: 2.7ohm
Le: .3mH
Z: 4ohm
Bl: 11.1Tm
Qts: .41
1W SPL: 90.65dB
Pe: 500W continuous *thermal*
Here is how closely they would model to the original IB15A in a 15cf trunk: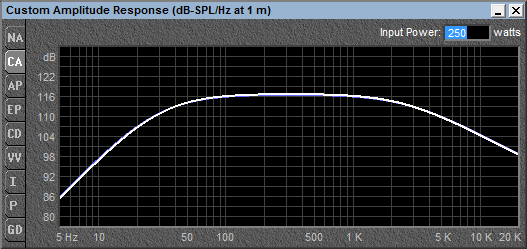 The blue is the IB15A which you can barely see under the white curve. The new driver has slightly more efficiency in that midbass-midrange area. The SBP15 will be available to order immediately at $299 individually. Current lead time as of 3/7/11 is about 4 weeks. SBP12's will be $249 each and have the same lead time. I expect to have these stocked for immediate shipment in small quantity once I am caught up on other orders here.
*Also note that thermal power handling does not apply to the physical amount of power taken to do physical damage to a driver. At 20hz, 250W will reach the 18mm Xmax. Up at 75Hz you could easily apply 500W continuous for long periods of time with no thermal damage to the VC. Power handling applies only to the amount of heat a VC can take. It is the responsibility of the user to properly implement any woofer in a system to prevent damage due to over excursion.
Best Regards,
John